Photoluminescent Signs
Photoluminescent signs or eco-friendly signage are available in various models according to requirement and purpose of use. From exit signs, safety equipment and floor safety signs, the range is varied as is the cost. The cost is primarily dependent on the intensity of photoluminescence which is directly correlated with the visibility distance. Photoluminescent signage is the most energy efficient signage. It requires no electricity and modern day photoluminescent signs offer greater visibility even in lower visibility conditions. Moreover, they do not have breakable parts so as to make them malfunction during falling debris. Further, they do not require battery change or yearly operation checks.
Since photoluminescent signs help reduce electricity costs, companies can obtain LEED credits by using these in the buildings. The International Fire Code (IFC) and International Building Code (IBC) prefer photoluminescent signs for exit passageways and vertical exit enclosures.
Other advantage of photoluminescent signs is that no wiring is needed during installation which reduces installation costs by 100s of dollars. These photoluminescent signs are truly green signs. Over a period of 30 years, these signs can save over $2000 in electricity and maintenance costs over an exit sign powered by an incandescent bulb.
| | |
| --- | --- |
| | |
| Exit sign with bulb and battery backup | Photoluminescent exit sign with zero energy use |
| Quarterly checks on battery requiring 100s of hours over the lifetime | Zero maintenance sign |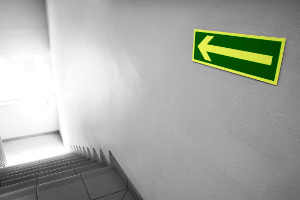 Above picture shows a photoluminescent marking sign guiding occupants out in case of power outage. Note, no wiring, battery backup or power was needed. Further, affixing such a sign took only seconds.